$38.00 – $48.00
Come and enjoy a fun evening out with yummy food catered by the Half Cab Grill and awesome music from the McMurphy Brothers!
Description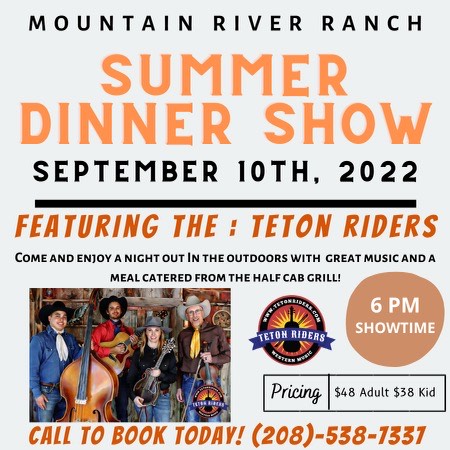 Mountain River Ranch Presents our Famous Summer Dinner Shows!
Looking for a fun night out to spend with family and friends? Or possibly something to bring your company to for a fun evening out? We have just the thing for you. The summer dinner show is a laidback venue held here at the Mountain River Ranch near our Pavilion area (on the southern end of the property). Come and enjoy some amazing music from two local bands and an amazing meal!
---
The Summer Dinner Show is a catered by the amazing Half Cab Grill located at Kelly Canyon Ski Resort, and the menu goes as follows:
(dinner comes with house rolls and butter tabs)
(Center plate option)
Smoked Tri tip medallions
Garlic and Red wine marinated Tri tip slow smoked to medium and sliced thin
or
Smoked marinated chicken leg quarters
Apple cider marinated and slow smoked sweet and savory
(both sides come with the dinner)
Grillin' beans
Sweet with a little heat.. our three bean blend is perfectly paired with smoked meats. We call it the sauce!
Dutch oven potatoes
Red potatoes creamed with bacon, grilled onions, sweet bell peppers, and lots of cheese.
(Salad option)
Cowboy Chopped salad
Chopped romaine, black beans, corn, shallots, bacon, tomatoes, bell peppers, cilantro lime ranch, shredded cheese.
or
Carolina Cole Slaw
Sweet creamy vinaigrette with red cabbage carrots and green onions.
(dessert)
Texas Sheet cake
Moist and dense chocolate sheet cake with our signature ganache
---
**It is a picnic styled dinner, so bring your own chairs and blankets to sit and enjoy your meal while you listen to our talented musicians!
Sept 10th, 2022
Teton Riders – 6:00 PM