December 14, 2023 6:30 pm - 8:00 pm
98 N 5050 E, Ririe, ID 83443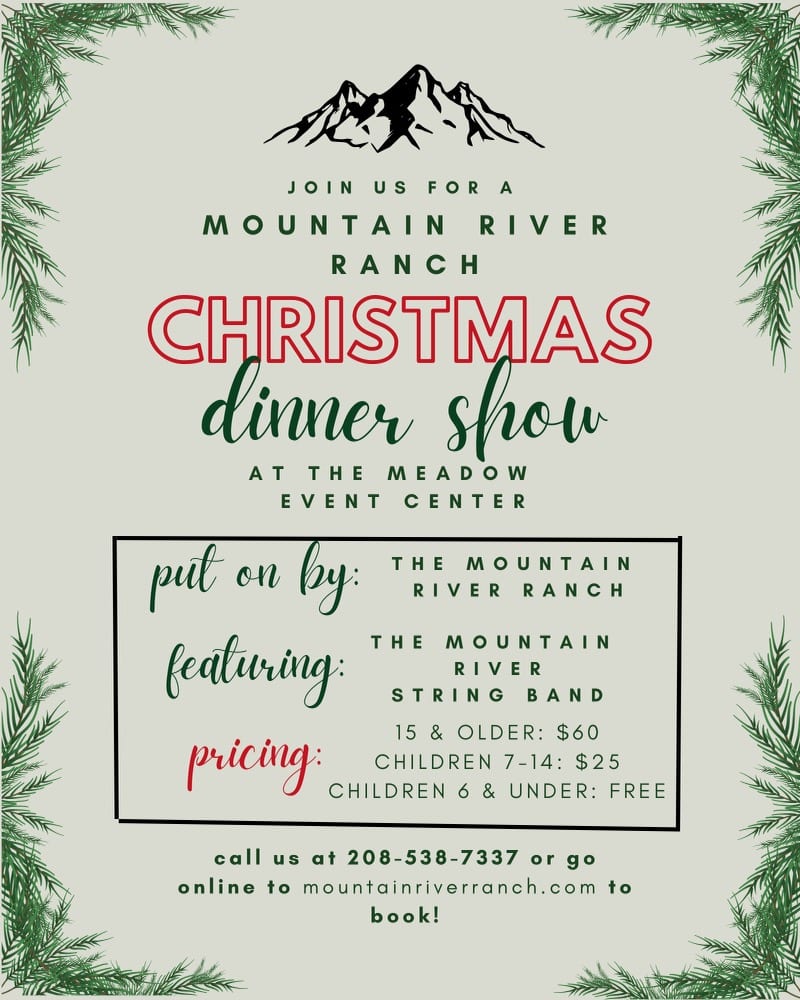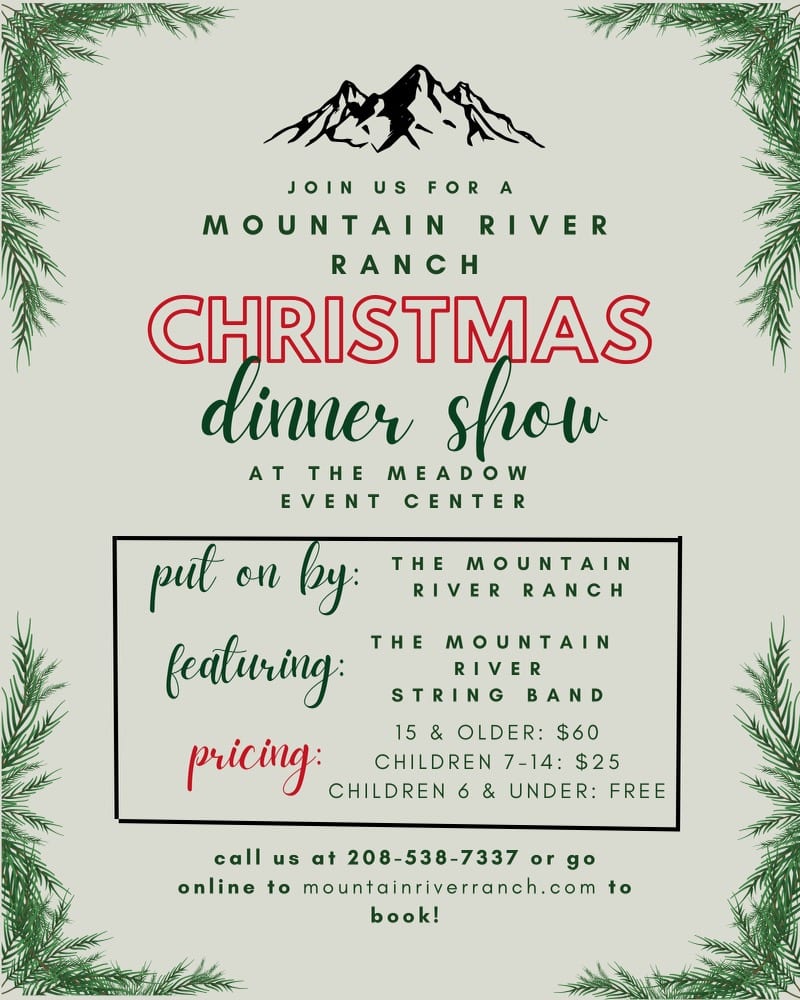 This is for the December 14th, 2023 dinner show.
Tucked away in the forest of the Mountain River Ranch, we find the lovely Meadow Muffin Dinner Theater where we will be hosting this years Christmas dinner shows again!
Get ready to enjoy an evening full of magic where we provide you with a memorable evening of good food and enchanting music performed by the talented Mountain River Strings Band.
Consisting of wonderful local musicians;
Fiddler, vocalist, and band leader Jacie Sites
Fiddler, and guitarist Joe Sites
Drummer, and vocalist Kenny McMurphy
Pianist, and fiddler Tabitha Snell
Bassist Casey Braastad
The Christmas Dinner Show has been a staple in southeast Idaho for over 30 years and continues to be a highlight in everyone's Holiday season. Some of our season highlights are-
Christmas western town
Christmas lights
Christmas music
Christmas treats and goodies
---
⛄🎅🎄 Event Details 🎄🎅⛄
Event: Annual Christmas Dinner Show @ Mountain River Ranch
Dates: Nov 24-25, Nov 27-30th, Dec 1-2nd, Dec 4-9th, Dec 11-16th, Dec 18-20th, Dec 28-30th, & Jan 1st, 2024
Times: Event starts at 7:00 PM, Seating starts at 6:30 PM, Doors open at 6:00 PM
Venue: Meadow Event Center @ Mountain River Ranch
---
Menu for Dinner
BBQ Chicken Breast
barbequed on our house grill with a sweet and tangy bbq sauce
-or-
BBQ Beef
tender beef barbequed on our house grill with a sweet and tangy bbq sauce
Side Dishes (all sides included with each meal)
Sweet Corn
Baked Potato with butter and sour cream
Green Salad
Bread
Dessert
Christmas Dessert
Drinks
(drinks and spirits for purchase)
Our dinner show is a great place for family and friends, company Christmas parties, or a fun date night out. Come and enjoy this holiday season with us!
Ticket Type
Price
Cart
Dec 14th, 2023 - Christmas Dinner Show

$

25.00 –

$

60.00