Current Alerts Regarding Yellowstone National Park – Updated 6/17/22
The park may switch to online an reservations via Recreation.Gov – There will be no overnight stays until the new system is implemented, which could be roughly 3-4 weeks from now.
The park authorities are meeting June 19th, 2022 to discuss the current situation. They will release more information after that meeting.
Mammoth Hot Springs is closed for the season.
The sewer system around Mammoth Hot Springs needs repair but may open up in the fall.
Roosevelt Lodge will remain closed until at least the end of the season on September 4, 2022.
Teton National Park is still open – We suggest visiting Teton National Park if you are unable to vist Yellowstone.
The southern entrance may open back up on 6/20/22 or 6/21/22, but this has not been confirmed yet.
What is going on at Yellowstone?
A once in a lifetime event has occurred in the American Northwest, but it is not one which anyone will welcome. On Monday the 13th of June 2022 it was announced that record flooding and rockslides caused by an extremely heavy burst of rain had prompted a rare closure of Yellowstone National Park. This is the first time in 34 years that Yellowstone's main entrances on the north, south, east and west of the park have been closed and the park effectively shut down to visitors. The last time was back in 1988 when a series of deadly wildfires prompted park authorities to close Yellowstone in early September of that year.
On this occasion the closure has been brought about by a rare weather event called an atmospheric river. This is where a narrow band of enhanced water vapor develops in the atmosphere, such that there is an abnormal amount of water being effectively carried along like a river in the sky, though obviously it does not resemble one physically. Eventually this has to be dumped down somewhere and Yellowstone National Park is where it has landed on this particular occasion. Torrential showers rained down across the Northwest in early-to-mid-June. As a result Yellowstone has received between 200% and 300% of its normal moisture over the weekend of the 11th and 12th of June. To compound the problem this excess moisture landed on watersheds which were already saturated by seasonal snow melt, which even in a normal year tends to create some flooding in the mid-summer season. The combination of all of this had dislodged rocks and created rockslides as well as huge torrents of water and massive flooding along the course of the Yellowstone River. In fact, to get a sense of how extreme this event is consider that Yellowstone River reached a record high flow of 30,000 cubic feet per second in 1918. During the past few days that previous record was shattered and nearly doubled as the flow of the Yellowstone River exceeded 50,000 cubic feet per second.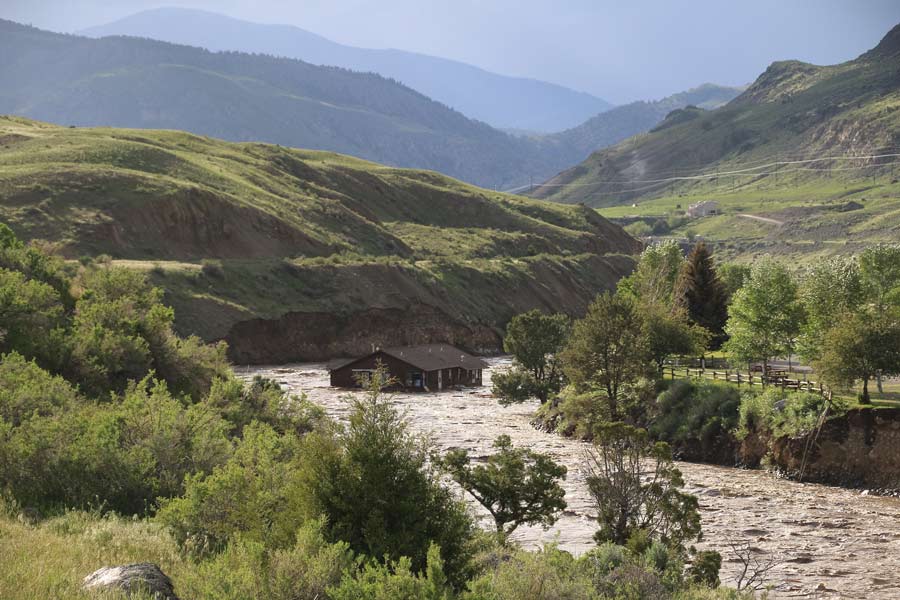 The rainfall which has been seen in Yellowstone in recent days is unprecedented and has created equally unprecedented levels of destruction. On the 14th of June an entire two-story cabin was swept away by a river raised to enormous levels by floodwaters. Helicopters have captured footage of roads and other pieces of critical infrastructure which have been damaged or almost entirely destroyed by the floodwaters. While the worst of this has passed, park authorities are still assessing the damage which has occurred before any announcement to reopen is made. The park will certainly be closed until this coming weekend, the 18th and 19th of June, and maybe longer.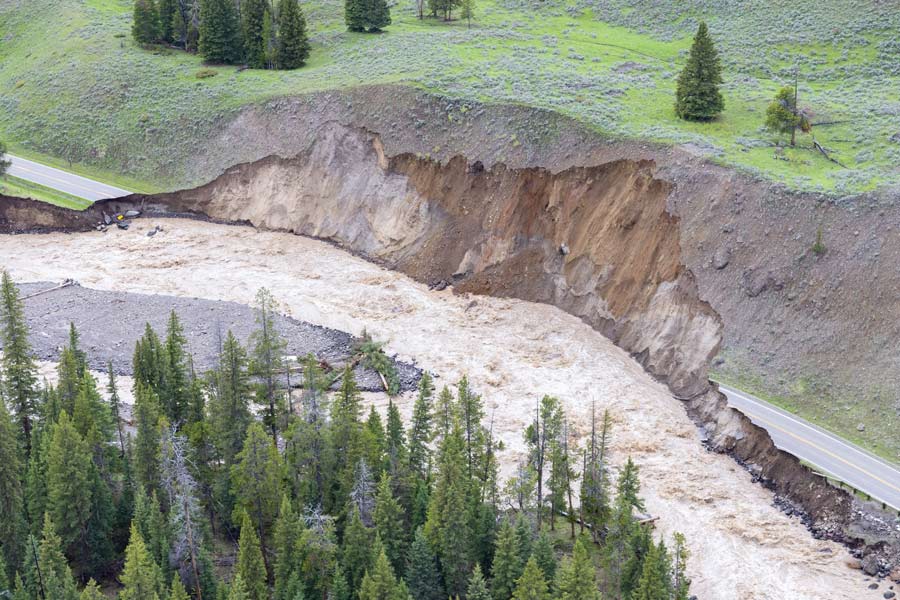 Once an announcement is made it is also entirely likely that travel plans will be interrupted for some time to come. There is extensive damage to large parts of the park, particularly the low-lying areas near the rivers, while crucial arterial routes for travelling through the park may be closed for some time to allow for road and bridge repair. Indeed, it is more than just the transport infrastructure which has been hit. There are also widespread outages of electricity and a lack of running water in many areas. The northern part of Yellowstone has taken the largest hit, with multiple bridge and road failures, mudslides and other issues having occurred here. Given all of this, some of the more pessimistic outlooks are understandably predicting that this could change how the park operates and the experience visitors will have there for much of the remainder of 2022.
Unfortunately this has occurred at the height of the season for visiting Yellowstone, which typically speaking begins in the late spring and peaks in the summer months. Given that approximately five million people visit Yellowstone annually there are now hundreds of thousands of visitors in the short term whose plans have been interrupted. Moreover, those visitors who were planning on visiting the northern end of Yellowstone even in the late summer or early autumn will probably have to change their plans as well, as the northern entrance to the park will probably remain closed for months to come and extensive repair of roads and other infrastructure there will need to be carried out.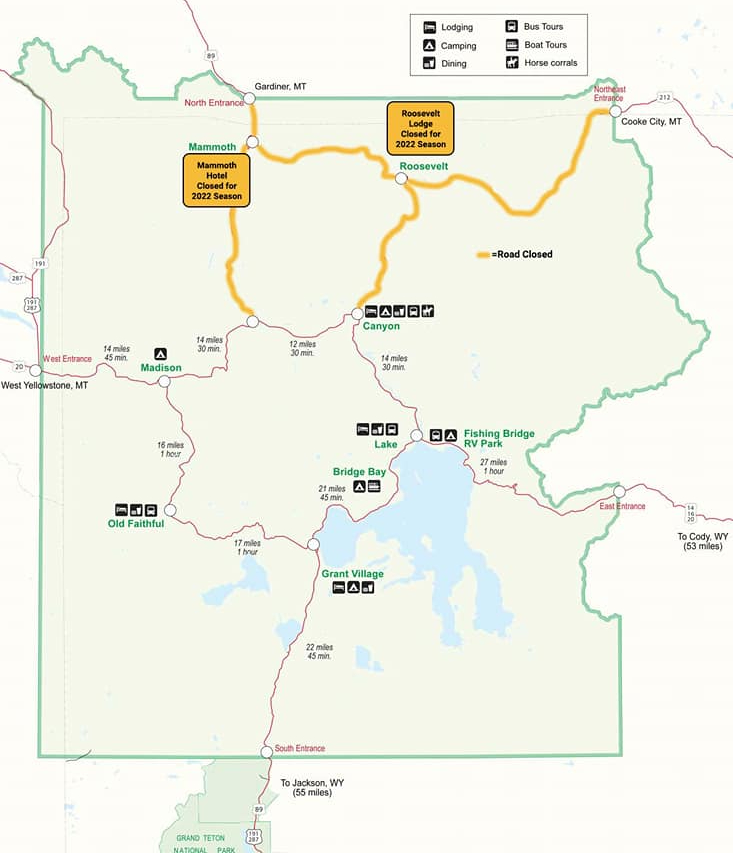 With this in mind, the following offers advice on where alternative camping sites and attractions can be found in regions approximate to the main gates of Yellowstone:
The Western Entrance
One of the great sites that can be visited during this period of crisis is Grand Teton National Park, which is very close to the Western Entrance of Yellowstone, but which did not suffer similar damage and which remains open to visitors. This 310,000 acre national park in north-western Wyoming includes the major peaks of the Teton Range. Here one can see bison, elk, grizzly bears, deer and other animals, as well as visit Jackson Lake, which at an elevation of over 2,000 meters is one of the largest high altitude lakes in the United States. Alternatively you can travel along the 42-mile scenic drive which takes visitors through the heart of the park and allows you to drive down the Teton mountain range, while also passing by Jackson Lake. Finally, a visit to Teton would not be complete without visiting Signal Mountain. This stands 2,350 meters tall, but it is its isolation which makes it truly striking. The next highest peak is over fifteen kilometers away and so Signal Mountain provides a stunning panoramic view of the Teton Range, Jackson Hole and the Snake River. Throughout Grand Teton National Park visitors will find many standard camping spots for RVs and tents. Cabins can also be booked here at rates from around $109 a night. These are provided with all necessary amenities, including a wood stove and are a very good option for visitors to Teton.
Those on holiday who can't make it to Teton can visit the Grizzly and Wolf Discovery Center to see wolves and grizzly bears. This is also in close proximity to the Western Entrance of Yellowstone. There are also several smaller camping sites in this vicinity, notably Island Park. This is located on a large caldera formed from a volcano long ago. It is one of the world's largest calderas, measuring approximately 95 kilometers wide and 65 kilometers in length. Parts of it stretch into Yellowstone itself, but you can find camping sites on Island Park which are outside Yellowstone and which are still operating. Moreover, visitors here have the option to rent ATVs and dirt-bikes to explore the area.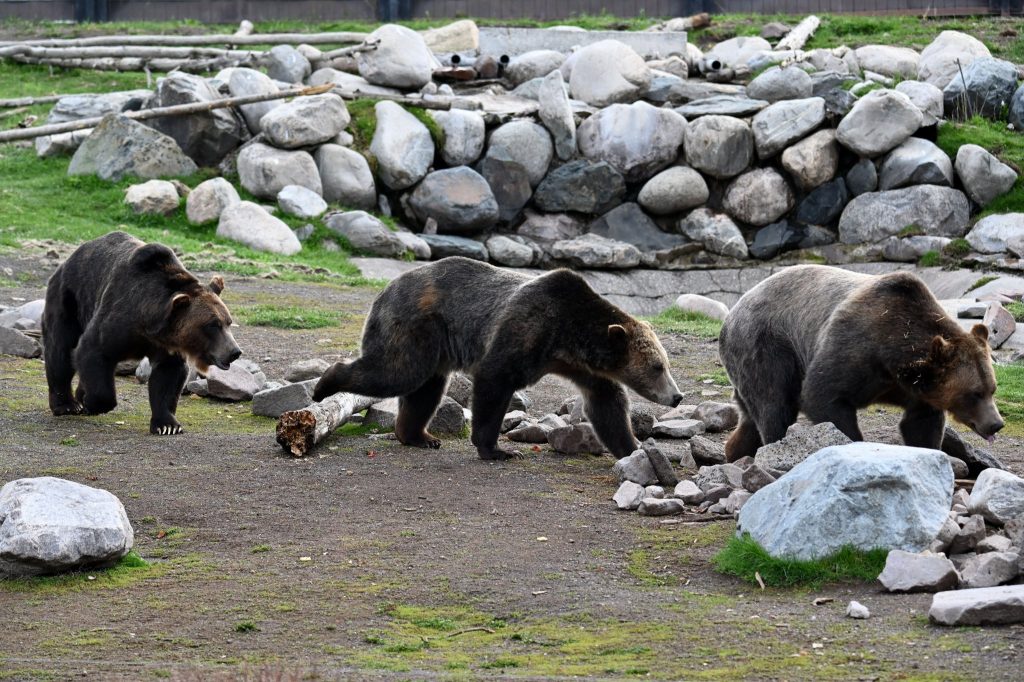 Another good option by the western entrance is Quake Lake. This is a lake next to the Madison River in Montana which was formed there following the Hebgen Lake Earthquake which occurred on the 17th of August 1959. The earthquake measured 7.2 on the Moment magnitude scale and ripple effects from it were felt as far away as Puerto Rico and Hawaii. The lake was formed as a landslide occurred following the earthquake, one which carried 50 million cubic yards of rock, mud and debris down into the Madison River valley, and this blocked the flow of the river, resulting in the formation of a lake next to it. This was then christened Quake Lake. Camping sites can be found here around the lake and this is another interesting and scenic option for those who have had their plans to visit Yellowstone interfered with.
One of the best options for those looking to make alternative travel arrangements is to visit Idaho Falls and the surrounding region, which lies approximately one and a half hours drive from Yellowstone. Idaho Falls combines the benefits of a wide range of restaurants, hotels and other amenities, while being proximate to many campgrounds and ranches. There are also several museums to visit in the town, such as the Museum of Idaho and the Idaho Museum of Natural History. Additionally anyone planning to visit Idaho Falls over the 4th of July weekend will be able to celebrate Independence Day by witnessing the largest fireworks display west of the Mississippi in Idaho Falls. The Melaleuca Freedom Celebration, as it is called in Idaho Falls, will happen at Snake River Landing on the banks of the river in the town on the night of the 4th of July.
A very good accommodation option for those who decide to visit the Idaho Falls area is the Mountain River Ranch. This lies about twenty minutes' drive from the town and roughly and hour and half away from West Yellowstone, in the tiny town of Heise, Idaho. It is a clean and quiet campground with a pond (Trout Pond) and lots of green areas. There are a wide range of accommodation options here, including RV and tent sites. Alternatively, there are ten different cabins here, of differing styles and sizes, which can be rented through Airbnb. Mountain River Ranch is also host to a number of shows and concerts in the coming months so do check out the Ranch's website to see what else is of interest to you there.
Heise, Idaho has lots to offer the exporting traveler. Some of the best pizza in the Idaho Fall's area is actually in Heise,. The Heise Pizza Parlor is infamous with the locals, and is very highly recommended by us. There is also the infamous Heise Hot Springs, which has a hot pool that runs directly off of a hot spring. There is also a normal large swimming pool with slides for fun with the family. Did I mention that there is a thrilling zipline at Heise as well? Guess what?? All of these exiting activities, plus more (such as hiking, mountain biking, fishing, kayaking, etc) is all within walking distance of Mountain River Ranch 🙂 Call 208-538-7337 to book your stay at Mountain River Ranch, or book online here.
The Southern Entrance
As with the Western Entrance the Southern Entrance is in close proximity to Grand Teton National Park which as noted above has a very wide range of attractions to it. It is also close to Jackson Hole, a town standing in the shadow of Snow King Mountain. Visitors here are near to the National Elk Refuge, the Jackson Center for the Arts and the Jackson Hole Mountain Resort. Moreover, during July and August the Grand Teton Music Festival is held in the region, with regular events interspersed across an eight week period.
The Southern Entrance, like the Western Entrance, is also proximate to Idaho Falls. As noted above, there are a very wide range of activities and attractions to do and avail of in the town and the surrounding region, not least nature-ways outside the town and the Melaleuca Freedom Celebration in Idaho Falls itself on the 4th of July. Visitors to the Idaho Falls region have a wide range of places to stay, a good option being Mountain River Ranch, which has RV and tent grounds, as well as numerous cabins of varying sizes which can be rented through Airbnb.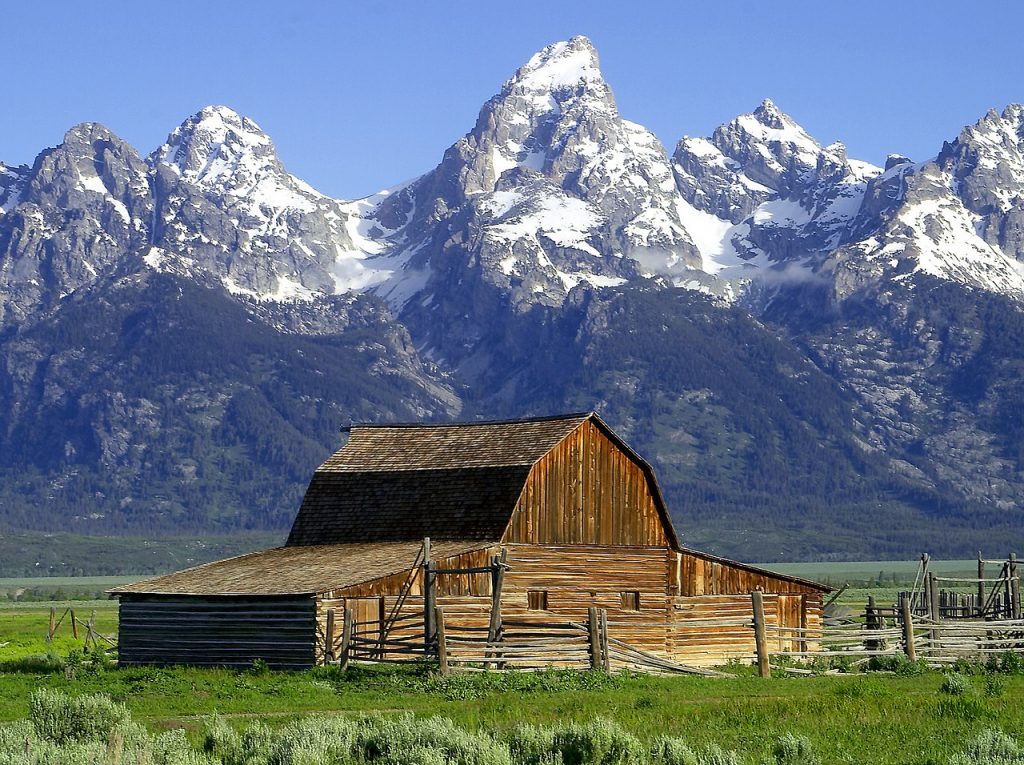 The Eastern Entrance
The Eastern Entrance is proximate to fewer alternative sites to visit, however there are some locations which are well worth visiting nonetheless. The town of Cody in Wyoming has many attractions for tourists, chief amongst them the Buffalo Bill Center of the West. This is actually a complex of five different museums, they being the Buffalo Bill Museum, the Plains Indians Museum, the Whitney Western Art Museum, the Draper Natural History Museum and the Cody Firearms Museum. It was first founded in 1917 and was dedicated to the life of William F. Cody, a.k.a. Buffalo Bill, however the museums have expanded over the years to provide a fully immersive experience into the life of the West in the second half of the nineteenth century. Indeed it has been listed as being amongst America's most impressive museums and is worth a visit to Cody alone.
There are also a wide range of other attractions to take in if visiting Cody, notably rodeos, wildlife tours and ranch visits. Additionally, depending on which direction you are travelling from it might be possible to tie in a visit to Mount Rushmore, which admittedly is six hours drive from Cody, but may be just a short detour away depending on how you are travelling to Wyoming.
The Northern Entrance
The Northern Entrance to Yellowstone is currently shutdown and is the one which is most likely to remain shut for an extended period of time, given that some of the worst damage has occurred in the northern parts of the park. For those who are intending on visiting the neighboring parts of Montana there are several attractions and sites to visit in near proximity. For instance, the Chico Hot Springs near Pray and the Yellowstone Hot Springs near Gardiner are popular destinations. Equally, visitors can go and see the Roosevelt Arch, which was erected near the Northern Entrance in 1903 by order of President Theodore Roosevelt. It celebrates both Yellowstone's creation as a national park and the arrival of the first railway line to Gardiner, Montana the year the cornerstone of the Arch was laid down.
Another very attractive destination near the Northern Entrance is the town of Bozeman, which sits in the Gallatin Valley and is surrounded by parts of no less than four different mountain ranges. This picturesque town and the surrounding area has been the site of many film and television shoots, notably A River Runs Through It and The Horse Whisperer. The town also has a lot of good restaurants and shopping options available and is an interesting option for visitors to this part of the Northwest.
Need A Place To Camp Near Yellowstone?
Because of what is going on at Yellowstone National Park, we understand that some plans need to change. If you are looking for an awesome campground that is roughly an hour and half away from the West Yellowstone entrance, then our campground Mountain River Ranch is a great place to stay! Our campground is quiet and cozy, that includes a private trout pond. Our bathrooms are well maintained and cleaned daily.
We offer normal RV/Tent camp sites with electric and water hookups (no sewer), but we also offer cozy cabins as well. To book a RV or tent site, please go to our RV booking page. If you are wanting to book a cabin or luxury tent, then please go to our Airbnb listings.